The Book of Kells
Fee-Paying Tourist Attraction in Ireland #5


The Book of Kells is located in Trinity College in the heart of Dublin City Centre. The exhibition that houses the ancient texts also provides for a visit of the old library which is well worth seeing. The exhibit is accessible from either the main gate into Trinity (facing Dame Street) or from the side gate at Nassau Street (access through the 'Arts' Building). The National Gallery, National Museum, Christchurch Cathedral, Dublinia, Grafton Street shopping and St. Stephens Green are all within a few minutes stroll of Trinity College so the location is about as central as you can get!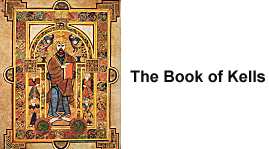 While within the grounds of the College it is well worth taking a stroll around the campus and there are even student-guided walking tours held in the Summer months. The viewing of the Book of Kells and Library can be completed in about an hour (or longer if you prefer!). The actual books contain the four Gospels in Latin and are written on vellum. It is estimated that the books were written about the year 800 A.D. The main chamber of the Old Library is the Long Room and is nearly 65 metres long containing over 200,000 of the Library's oldest books. The Library houses one of the few remaining copies of the Easter 1916 Proclamation of the Irish Republic which was read outside the GPO by Patrick Pearse at the commencement of the rebellion.

A visit to the Book of Kells has become almost compulsory for visitors to the city centre. Certainly the book itself is a marvellous artefact. If ancient history intrigues you then the exhibtion is well worth a visit and if not there are plenty of other things to do and see nearby.
Video about the Book of Kells